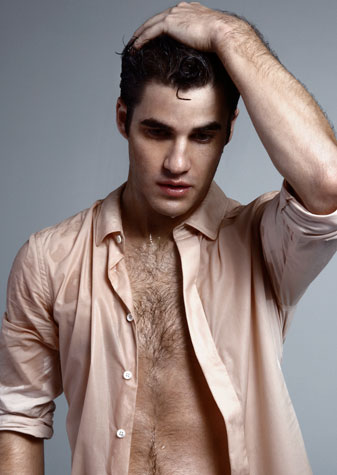 You may recognize this kid from his current stint on the wonderful show, Glee. Some of you may also recognize him from his debut as Harry in the
Very Potter Musical
(much cuter than Daniel Radcliffe). This week's Adorkable Man We Love is the one and only, Darren Criss.
Like many aspiring artists, Darren began to express himself at a very young age. A

t the age of five, he began taking violin lessons and continued his classical training up through university.

He eventually learned many other instruments

, mastering the guitar, piano, cello, mandolin, harmonica, and drums.

At the age of ten, he was accepted into

the American Consercatory Theater

, where he spent his formative years studying theater performance.
After writing and starring in The Very Potter Musical in 2009, he made his Broadway debut, replacing Daniel Radcliffe in, How to Succeed in Business Without Really Trying. During his 11 month stay on the show, it was the highest grossing the performances had ever been.
Since then, Darren has sky-rocketed into fame with the help of Glee, becoming the wonderfully musical man we desperately want to marry.
There are a few things I have learned about Darren in the past year that have made me believe he is truly adorkable and down to earth. It makes me wish there were guys just like him who were actually attainable.
1. He does his own Disney song covers.
Even with that shaggy hair, I'd marry him in two seconds flat. Especially considering my obsession with Disney.
2. He supports the LGBTQ community to the ultimate power.
Homophobia is a huge turnoff for me, considering I go to fashion school and get most of my advice from gay men. You gotta love a man who can be comfortable enough with his own sexuality, to fight for the rights for others to express their own sexual orientation.
3. He's the sexiest man alive...
Need I say more?
In case you wanted to learn some more about this beautiful dork: